Garage Door Springs
Back To Our Services
Need experts in oil tempered garage door springs? Want services now? Help is only one phone call away! With specialists in our team and long experience in spring systems, our company can help all homeowners with related problems. "Garage Door Repair in Cornelius" can help you even before spring problems emerge. Why let springs snap? Do you know how much damage they can inflict? Do you know how dangerous they can be to your safety if you happen to stand around? Let our team check your springs often, suggest solutions and service these great parts of your overhead door that can cause so much trouble all of a sudden.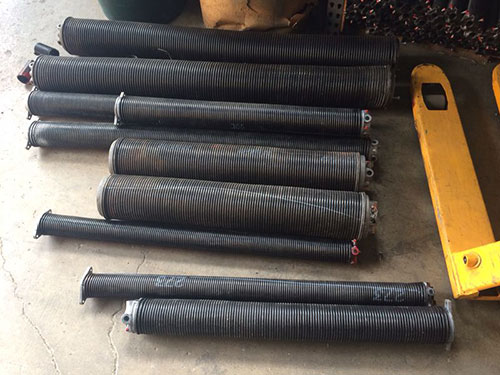 Our expertise in spring repairs is ensured
Our garage door repair expert team is years in this business. One look at your springs and our technicians will be able to tell you whether they are still strong or if they need replacement. By replacing the springs in due time, you won't only avoid problems resulting from having a broken garage door spring but also avoid accidents. By having the proper springs installed and being sure they are properly maintained and strong, you will be certain that your door will move properly and your family will be safe. Our company is an expert in all services related to garage door springs but always tries to warn its customers about the best ways to enjoy the garage system and avoid injuries and damage caused by snapping springs.
Despite of our ability to remove the existing springs by releasing their tension with caution and install new ones, our technicians are also here for broken spring replacement. Did you forget to replace the springs on time? Call us to replace the broken ones. Our fast response and ability to replace torsion and extension springs made by any brand make your life easier. The door is always checked for balance and so is the tension of the new springs. Contact our company if the springs make noises, sag or seem to be damaged! We can fix, lubricate and adjust them and are at your service every day for extension springs repair! Don't hesitate to talk to our staff if you have questions about springs or need services. Call or email us now!