Garage Door Openers
Back To Our Services
At Cornelius Overhead Doors Repair, we take pride in the fact that our customers come to us for excellent garage door service. We are skilled in repairing and installing garage doors, and we are also known for installing garage door openers in Cornelius. Our customers can count on us for emergency garage door service because we are always available all day, every day. Our same day service is also available if your need is urgent. We are proud to say that we are an insured, certified, licensed, and bonded garage door company.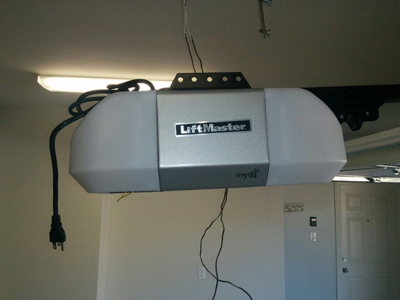 Brands We Sell
Cornelius Overhead Doors Repair makes all of the major garage door opener brands available to customers, and we also offer all of the different types of openers.
These brands include:
*Liftmaster
*Marantec
*Genie
*Sears
*Craftsman
*Chamberlain
Sears, Genie, and Marantec are very well known companies in the world of Automatic Garage Door Openers. Other popular brands include Craftsman, Chamberlain, and Liftmaster. Practically everyone is familiar with Sears in Cornelius, as well. All of these brands make garage door openers that are available in three types, and they are screw drive, belt drive, and chain drive.
A screw drive has a lifting device that runs along a threaded steel rod in order to open the garage door. A chain drive opens the garage door with a chain that runs along the garage door track. A belt drive works in a very similar way, except it uses a rubber belt to open the garage door instead of a chain. The type of garage door opener that is most appropriate for you will depend on you budget and your personal preferences. At Cornelius Overhead Doors Repair, we will treat you with respect and provide you with information that will help you decide which kind to get.